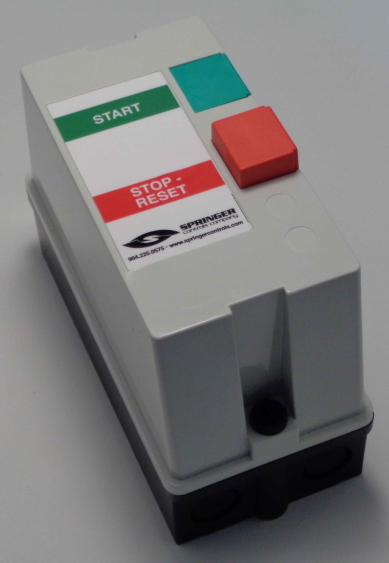 Click to enlarge

PRINT THIS PAGE
9A Assembled Starters
All 9 Amp starters are assembled in minutes once an order is placed.  Depending on the time of day ordered, same day shipping is possible, otherwise next day is likely.  For quantities higher than 5, please contact us.  The standard enclosure is NEMA 4X polycarbonate.
Control Voltage:  Select the voltage that will be used to power the coil in the contactor.  This may be the same as the voltage powering the motor, but it may also be different.  If you are unsure, please ask to avoid damage.
Motor Phase:  select whether the motor will be powered by single phase power or by 3phase power
OL Current Range:  choose the overload amperage range that matches with the Full Load Amperage (FLA) of your motor.  It is best to choose an overload that has a bit of room above and below the FLA of the motor.
Cover Controls:  Select what control button options you want on the cover of the enclosure
You will have multiple options even if you use all the filters.  The difference is explained in the item descriptions.
Direct Online – Control power and Line power to the motor are the same
Remote Start Terminals – Select this option if you will use an external switch to turn on/off the motor
Separate Control Voltage – Control power and Line power to the motor are different voltage
Remote Start Terminals + Separate Control Voltage – select this if you have different control voltage and will use an external switch to start/stop the motor