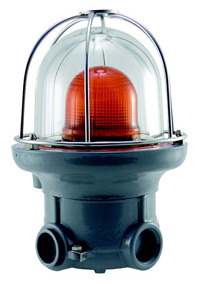 Yulee, FL – Springer Controls, in partnership with Texelco of Italy has introduced a new line of explosion proof signal lights certified to ATEX specifications for installation in zones 1, 2, 21 and 22. Multicolor lights are available in both domes and stack light styles. All can be set to provide a steady on signal or a flashing signal depending on your preference. Multicolor lights can flash alternately between colors when multiple signaling conditions are present. Single color lights are available for 24V AC/DC input as well as 115VAC or 230VAC. Multi-color lights are available for 24V AC/DC input power.
The new explosion proof dome lights are available in single color lights in red, orange, yellow, green, blue and neutral colors. Additionally, bi-color dome lights are available in either orange/red, and red/green color combinations.
Additionally, our popular 370 series lights are now also available in explosion proof design. The 370 is available in single color, tri-color and quad-color. This allows a single light to communicate multiple messages safely in a hazardous environment.
"Texelco has done a great job listening to the requests of clients and developing the products they want. Looking at the market, we saw a real opportunity for a cost-effective signal light solution for hazardous environments. The current offerings are limited and expensive, and these products fill that need well, so we're excited to offer these products and continue to work with Texelco to introduce new products."

-Brian Keck, National Sales Manager
---

---
Springer Controls is a full-service electrical controls manufacturer with a UL-508A approved panel shop carrying high quality IEC components and an extensive mix of electrical industrial control products manufactured by Springers partners. Springer stocks rotary gear limit switches and pendant controls from Italian manufacturer TER. Springer also carries temperature controls for transformers from Tecsystem in Italy. Disconnect and CAM switches from Merz in Germay, motor control and protection from Fanox in Spain and stack and dome lights from Texelco in Italy round out the diverse products that Springer provides to OEM and end user clients across North America.
Contact us today for any questions you may have on your industrial controls applications.